BiG Funding
Investments have been made by the members of the Business Investors Group, collectively and individually, over the past twenty years and represent a total investment in excess of £24 million.
Total equity stakes range from 11 per cent through to majority holdings.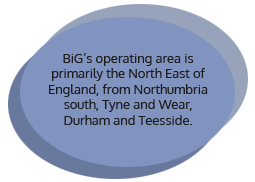 Over 80 per cent of funds have been made within SMEs here in the 'North East of England'.
Of the 70 companies in which BiG has invested, 19 have delivered excellent investment returns and 36 are still progressing and developing.
Investment Sector History
Sector
Area
Funds
Finance
Silver and VC Funds
£2,300k
Construction
Demolition
Property
£1,600k
Consumer Goods
Food Production
£1,900k
Engineering
Engineering
Ship Building
£3,825k
Leisure & Retail
Entertainment
Mail Order
£3,350k
Media
Photography   Publishing
£1,190k
Support Services
Office Equipment Security
Market Research   Translation
£2,648k
Technology
Internet Service   Technology
£7,377k
Sector Investments Covering
Advertising
Bioscience & Biotechnology
Business & Financial Services
Chemicals
Communications
Computer Hardware & Software
E-commerce
Education
Electronics
Engineering
Food & Drink
Leisure & Entertainment
Manufacturing
Marketing
Media
Property
Retail
Training
Transport
Wholesale Distribution